HMS parents, please do not forget to get on PowerSchool and register your students or to finish registration if you have started it. A form was added after registration started and you may still need to complete it. If you do not have access to the Internet or a computer, we will have computers available here next week during registration. All registration will be online. You should have received login information in the mail. Only use this login information if you do not already have a PowerSchool account. If you have questions, you can email
msregistration@harrisburg3.org
.
Girls' softball tryouts are moved to Jay Thompson field at Dorris Heights (the boys' field) - 4 pm to 6 pm tonight (7/26/22).
Important Information for HMS Softball and Baseball players - Tryouts for softball are Monday, July 25 and Tuesday, July 26 from 4 - 6 pm at Centerfield diamond at the park. Tryouts for Baseball are August 2 at 9 am at Jay Thompson Field (Dorris Heights). You must have a CURRENT PHYSICAL to tryout. You will also need a SIGNED PERMISSION TO PARTICIPATE, VERIFICATION OF INSURANCE AND CONCUSSION POLICY to tryout. You can download these from the school website (click on 22-23 HMS Athletic Forms) or a parent or legal guardian can sign them at the field prior to tryouts. Contact Alicyn Dowdy (softball coach) or Jay Thompson (baseball coach) for more information.
https://www.harrisburg3.org/o/hms
The Harrisburg Middle School volleyball and girls basketball teams are having a rummage sale tomorrow, June 11, in the HMS gym from 8:00 am - 2:00 pm. Also, if you have any items to donate, you can drop those off at HMS today until 7:00 pm.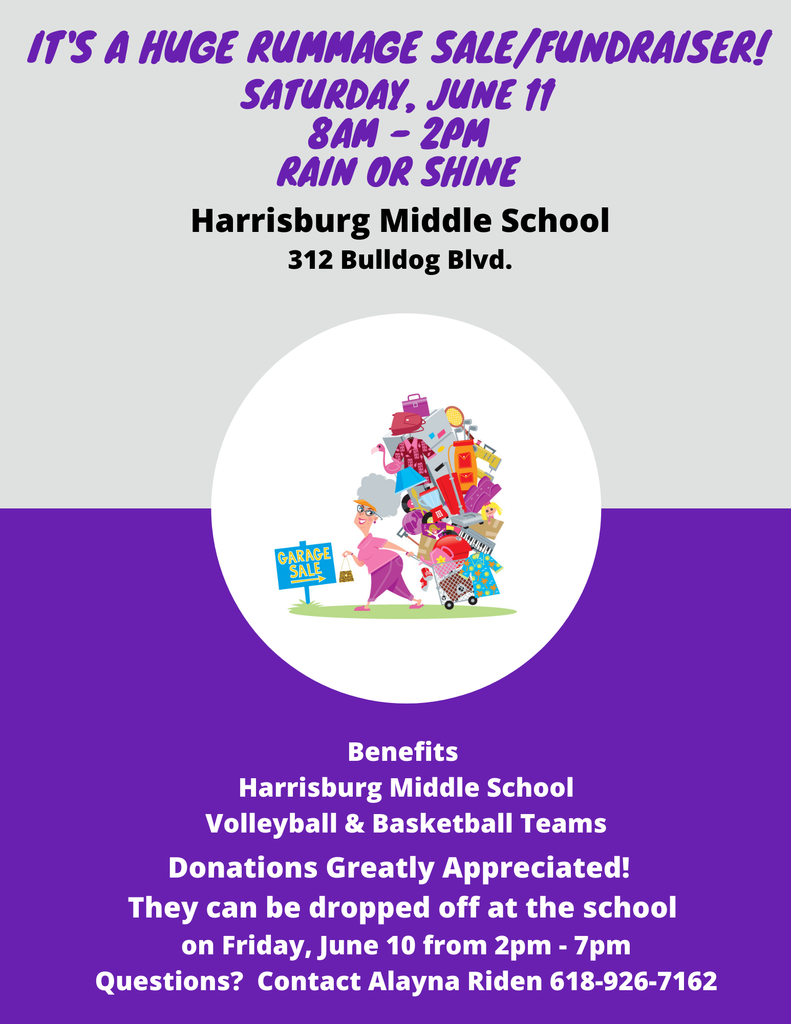 House Competition Day is tomorrow. Students need to wear their House t-shirts to earn points for their House. Students will be outside most of the day. The weather is supposed to be 80º and mostly sunny. Please make sure your child dresses for the weather and brings sunscreen if needed. Dairy Queen treats will be available for purchase for $2 each and sodas will be available for $1 each. Students should also bring their water bottles. School dress code applies.
Our final dance of the year is tonight from 5:30 - 7:00 pm. Doors will open at 5:30 and admission is $5. HMS students only. Dress code applies. Concessions will be available. Please pick your child up promptly at 7:00 pm.
Important Information for 8th Grade Parents: 1. Students will be bringing home a second copy of the note that was originally sent out on April 21 which includes important information regarding the Promotion Ceremony on May 24. Please make sure you ask them for this note. There will also be a copy posted on our HMS Facebook page. 2. Students who are eligible to attend Holiday World will have a note today that must be signed and returned on Monday, May 9.
8th Grade T-Shirt Order Forms and Money are due tomorrow. These shirts will be worn at the Promotion Ceremony and at Holiday World for those who are eligible. The cost of the shirt is $15 for sizes small through XL and $17 for 2XL or larger. Please send the form and money to school tomorrow.
The track meet scheduled for Wednesday, April 20 has been cancelled. The track team will practice on Wednesday after school until 4:00. No practice on Thursday, April 21.
There is no track practice today for HMS students.
This is a reminder that the dance at HMS tonight is from 5:30 - 7:00 pm. Admission is $5 and concessions will be available. HMS students only. Please pick up your child promptly at 7:00 pm. Students who were absent from school today may not attend the dance tonight.
Our next dance is tomorrow night, Thursday, March 24 from 5:30 - 7:00 pm. at HMS. Admission is $5 and concessions are available. The theme is Country vs. Country Club. All school rules and the school dress code apply. HMS students only. Students should make arrangements for a ride home before coming to the dance. Please pick up your child promptly at 7:00 pm.
Students at HMS will take a survey provided by the Harrisburg District Library on Friday, March 25. This survey is regarding student learning interests outside of school. We sent home an opt out letter with the students yesterday. You only need to sign and return the letter if you do not want your child to participate in the survey. A copy of the letter is attached to this message. If you cannot see it, you can go to our Facebook page to find a copy or contact the office. Opt out letters must be returned to the office by Friday morning.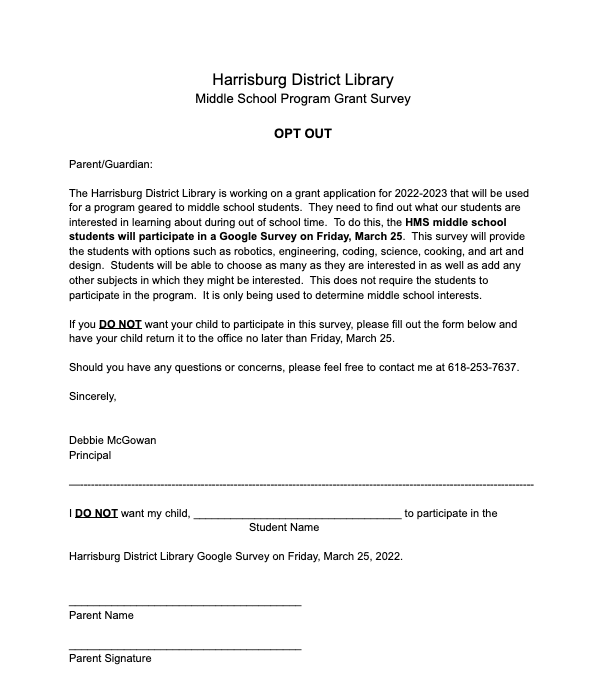 Middle school track tryouts are today from 3:00 - 4:00 pm at HMS. Students must have a current physical and all required forms to try out.
Today (March 8) is the last day to order a yearbook. Cost is $20 - checks payable to HMS.
A Message From The Elephant Is In The Room: Stay Alert. It's normal for kids to push boundaries, however, that can be dangerous when it comes to alcohol. Talk to your kids and help them stay alcohol free. (Credit: childmind.org/article/talk-teenager-substance-use-abuse)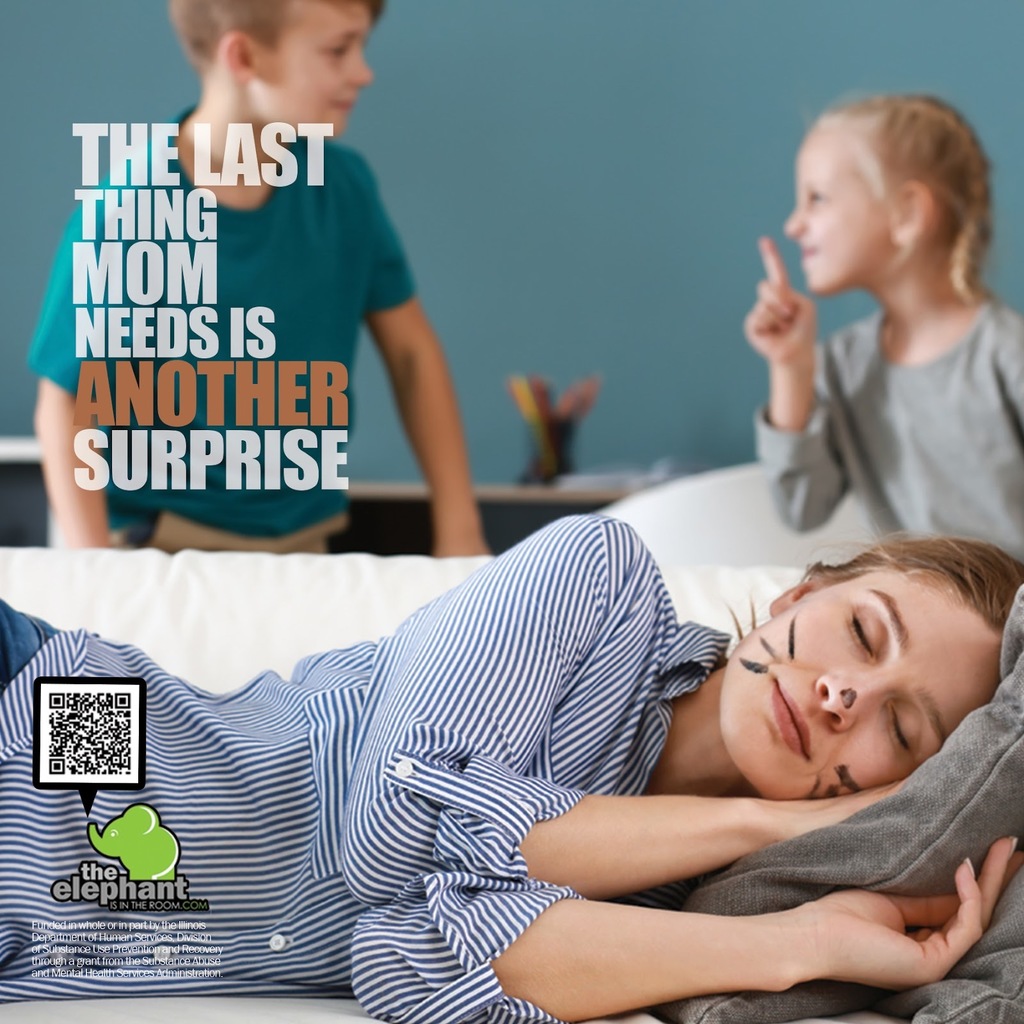 Attention Unit #3: Due to icy conditions, there will be NO SCHOOL for Harrisburg Unit 3 on Friday, February 25th.
The Freshman orientation for 8th graders that was scheduled for tonight at HHS is cancelled. Registration materials will be handed out to the students the next day we are in session and registration will begin at school next week. All 8th graders will be taken to HHS later in the spring for building tours.
Attention Unit #3: Please click the link for an important announcement from Harrisburg Schools.
https://5il.co/1660l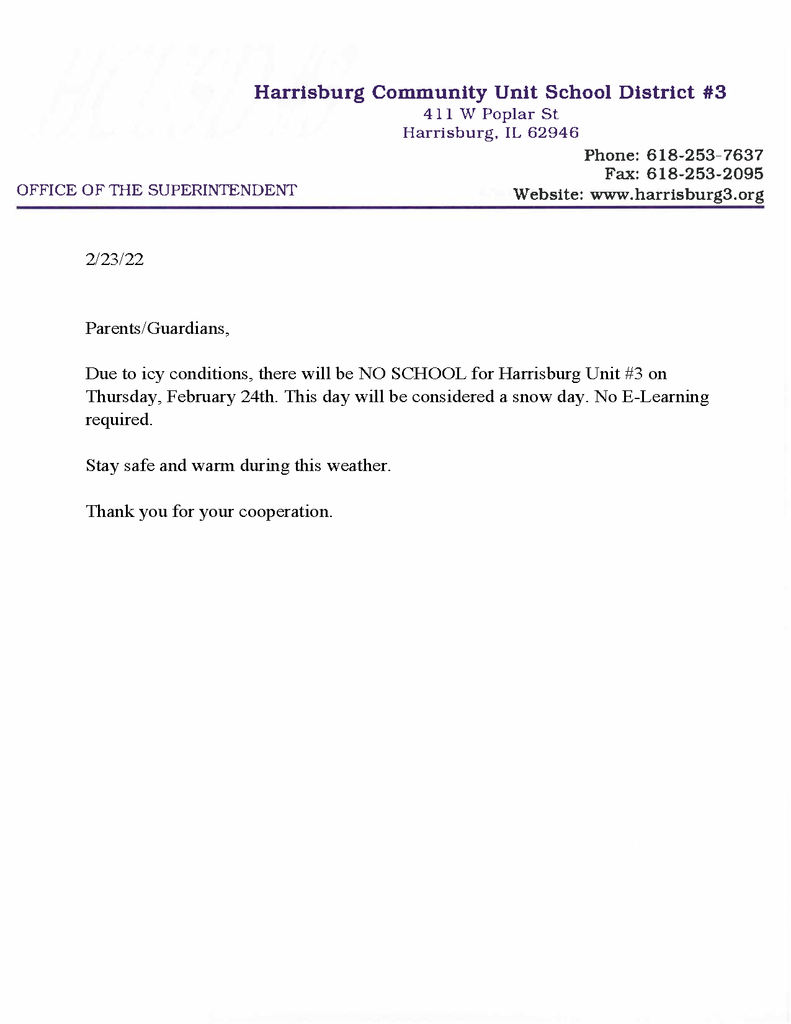 The volleyball game scheduled for tonight at Carterville has been cancelled. The girls will practice today from 3:30 - 5:00.